The Pottery Path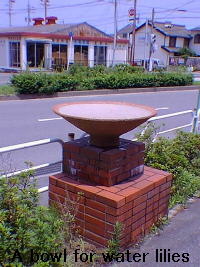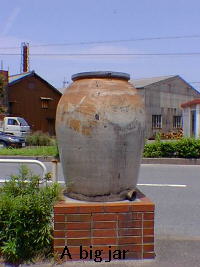 The number of the explanation is the point on theMAP
1. Here is a big jar at the entrance of the Path, it was made for pharmaceutical products in the 1940s. The big bowls along the Path are called "Suiren-bachi", "bowls for water lilies" which are filled with water and placed in the corner of a yard. People enjoy seeing water lilies, water grasses, goldfish and things like that in them.
2. Kilns at that time needed to be built on inclines, so it was advantageous to build them on the hillsides. The Path is therefore hilly.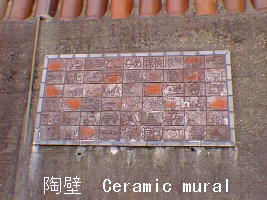 This ceramic mural on your left is made by elementary students.
3. Ceramic pipes are used to support the banks. This style is seen in many places in Tokoname. This is recycling of inferior pipes.
Ceramic pipes are made for water service and sewerage. They are resistant to the sudden changes of temperatures and heat and very durable as well.
There are many kinds of ceramic pipes such as round, square, and with branches or sockets.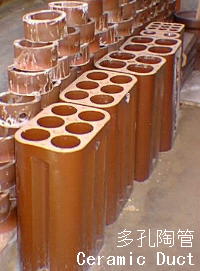 Pipes with four, six, or nine holes are used for electric cables. Once a traffic accident occurred in a tunnel on the Tomei expressway and caused a big fire in it. But the electric cables covered with ceramic pipes remained unburned and safe. This is a good example to show their resistance to heat.
4. One of the famous views in Tokoname is the brick chimneys. The tallest one is 25 meters and the shortest is about 13 meters. This chimney was shortened to prevent collapse from earthquakes and typhoons. Chimney size is related to kiln size. Burning efficiency was taken into account when they were built.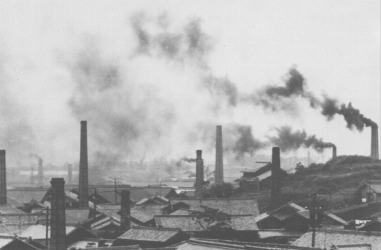 Symbolic to the scenery of Tokoname, over 300 to 400 brick chimneys existed in the 1950s which was then at the peak industrial period. During that time clouds of pure black smoke belched from the many chimneys every day. The sun light was greatly reduced.
This type of chimney scenery is associated with the production of pottery in Tokoname. The city produced relatively large ceramics like pipes, jars and bowls. They needed big kilns and this gave rise to these kinds of chimneys. This scenery is unique to the character of Tokoname.
Fuels have been changed from coal to heavy oil and finally to gas. Once kilns had been converted to gas, chimneys lost their important roles and became useless. Old chimneys that are in danger of collapse have been demolished one after another. Today 90 still exist but only 50 to 60 of them remain in perfect condition.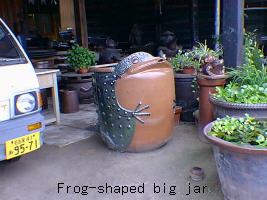 5. Large water jars, frog-shaped big jars and pots are displayed here. They are made by a method called "Himozukuri" coiling building. Thick clay coils are formed first, then the coils are gradually piled up one by one. A potter begins by placing one coil on another and waits until they get dry, and he repeats this process many times. Making a big jar by this method requires about one week.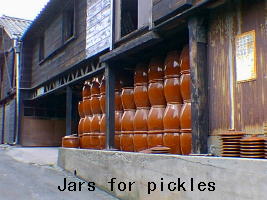 6. You see big jars on both sides, which are for making pickles.
7. There is a big old building on your right side below. It was built in about 1850s and used for a shipping agency. No one has lived in it for about 30 years, Tokoname City is planning to make good use of this house as a gathering place for people.
There is close relation between shipping and ceramics. Ceramics had been carried by ship to all over Japan since the old days. In the 12th century, many shipping routes were developed. Nowadays most ceramics are transported overland.
On that narrow slope, clay rings once used for firing ceramic pipes are buried to prevent slipping.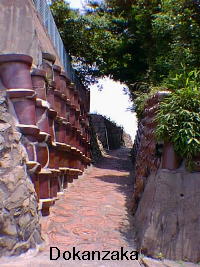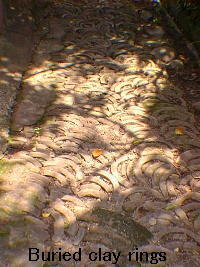 8. Here is a"Dokanzaka", and one of the highlights of the Pottery Path. It has been selected as one of "the 30 famous Japanese hills". Please enjoy the beautiful ceramic pipes and humorous looks of the sake bottles. Clay rings are also buried here.
The ceramic information board explains the various stages in the production of Tokoname-ware.
9. This is "Noborigama Hiroba", Climbing Kiln Square, which was opened in 1995. There were a lot of pottery factories one time before in this area especially centering on the hilly sides. In that exhibition pavilion, a square down-draft kiln with two fire mouths built in 1910s is well preserved. A pottery class providing pot making experience for you is held on the second floor. Reservation is necessary for that.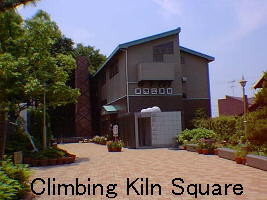 The monument placed in the center of the square is about six meters high and titled "Jikuu" which means passing over time. It expresses "Present", "Past", "Future". It's made by a potter named Masaaki Shibata.
A bow-shaped large mural is named "Glitter". 25,000 pieces of a pyramid-formed blocks five centimeters square are used in it. Their colors change as you walk along the mural. Junpei Sugie built this, who is a potter as well as a professor at a college of art.
This is a "Suikinkutsu", an echo chamber, near the bower. "Suikinkutsu" was invented as a technology of Japanese gardening in the period from the 1810s to the 1830s. It was usually built close to a room for a tea ceremony. People enjoyed the beautiful and clear trickling sounds of the water that echo in the pot. It is a pot with a hole at the bottom buried upside down in the ground. Some water is stored at the lower part of the pot. Water drops come from above through the hole to the surface of the stored water. You can hear the music of the echoes as water falls into the pot.
10. This Climbing Kiln is designated as an important cultural asset of the nation. It was built in about 1887 and operated till about 1973. It is the largest in Japan. Coal and wood were used to fire it. The firing took eight days and nights. Products made here were mostly flower pots, teapots, charcoal braziers, vases and sake wares.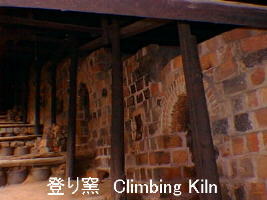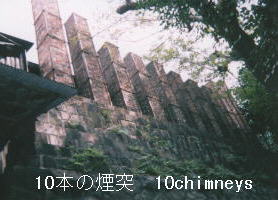 Climbing kilns are not used today except by a few potters. This kind of kiln used wood and coal for fuel. They were structurally inefficient, in addition to causing air pollution. It was heavy labor to fire them. Nowadays gas, electricity and kerosene are major fuels. Why some potters are particularly interested in climbing kilns is that they enjoy the varying textures and colors that this kind of kiln produces. Many pottery lovers are fond of the unexpected finishes produced by a climbing kiln.
There are ten chimneys behind the kiln, feel free to take a look around the kiln. There are still potters living on the Sanpomichi that remember firing this kiln.
11. Here is a foot bridge crossing two factories above the Path, which was used to increase the efficiency of the factories. Removal and demolition of past bridges make this one quite rare.
12. The wall on the left side has been repaired recently. Old ceramic pipes were thoughtfully buried in the wall so as to suit the landscape of the Pottery Path. This kind of consideration maintains the landscape of the Pottery Path.
13. This is the studio of a craftsman who still uses a traditional technique. He makes large works with the technique of coiling building. We may find him working, if our timing is right.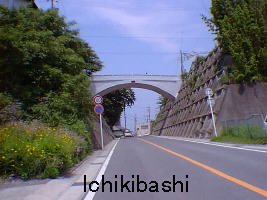 14. This is a bridge called "Ichikibashi". There were more chimneys and factories operating in this area thirty years ago. Factories which opted for modern producing systems and mass production have moved to the suburbs. As you understand after walking the area, the roads for cars are limited and also very narrow. Some factories are stopping production because of the difficulties to find the successors. The scenery will gradually change. But we'd like to carefully maintain this exclusive scenery of Tokoname.
15. Here we are back at the starting point, Ceramic Hall. Thank you for being with us. The Pottery Path also has a B course. Institutions such as The Ceramic Art Institute, The Ceramic History Museum, INAX Tile Museum and The Kiln Museum Gallery are found there. If you have time, please visit them, too. Moreover, there are pottery galleries and a wholesale pottery market in Tokoname. You can enjoy shopping for Tokoname-ware there as well. We appreciate your coming and hope to see you again. We look forward to your next visit. Thank you.
NEXT PAGE